Our Blog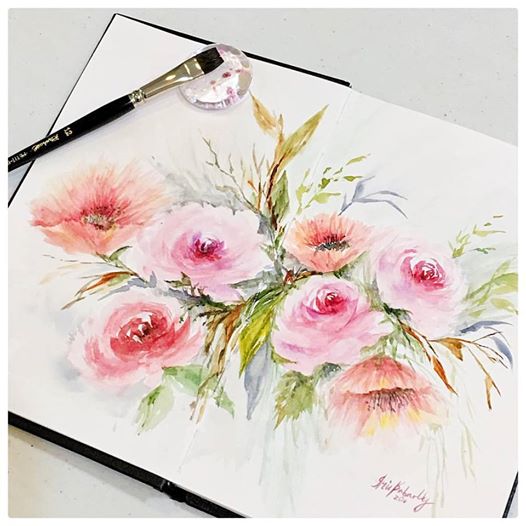 A Little Spark came a long way
22 November 2016, Posted by Princess Tarnate
---
When was the last time you did something new? Sounds familiar? I often find myself in a deadlock answering this question….age, priorities and time are often one of the reasons for me. However…good things will really find its way to us…unexpectedly. Little did I know I would again find my love for coloring…now in a more sophisticated and classy form…WATERCOLOR.
My instagram account is filled with some nice ladies who is into this art form as well. Beautiful, talented ladies who also have the passion to share their journey of watercolor art.
Meet Iris Babao-Uy. A full time mommy of two lovable girls armed with a paint brush and little watercolor pans. Doing art was her passion it wont be a surprise when you see piles and piles of weaponry (aka art materials) in her home office. She mastered colouring thru colored pencils and pens while creating insane scrapbook works. It was not long ago (9months to be exact) that she discovered a new craft through watercolor art.
Honestly, her works does not even get close to labeling as an intermediate art….it seemed she was working on watercolor since she was learning to read. She replicates the beauty of nature through her impressionist style especially when the subject are florals and scenery. Nakakaloka parang kaya nya mag paint kahit nakapikit.
Now she sells her artworks at www.irisbabaouy.com. This is actually the baby boom of her famous instagram account iris.sparkup. Enter celebrity star status. She now receives commissioned orders from fans and fanatics alike.
Same as me, a lot who needed something new in life scrambles to get a slot on her art classes. She often holds them on weekends. You can choose to get a class with or without art materials. The first choice is a better deal. You would be amazed how pricey quality watercolor materials are and with Iris's class parang libre na.
She is so patient with her students some even gets to her class every month. Ang dami nyang fans promise.
Here are some of her works..Remember she did it in less than a year….may pag-asa pa tayo….chos. Contact her so you maybe updated with her class schedules.
#watercolor #irisbabouy #loveforart #art #loveart #filipinoart #filipinaartist
How to Order
1. Choose your Bouquet

---
2. costumize your bouquet

---
3. check shopping cart

4. answer delivery form

---
5.Pay
---
6. send picture of payment via email

If you have any questions? Please feel free to message us.
MESSAGE US